Probe Cards
Features

Durable
DC to 40, 50, 67 or 110 GHz
Mix RF and DC contacts
For MMIC or Module probing
Individually spring loaded contacts
Inexpensive, fast, custom fabrication 3 capacitor bypass locations available
Each probe card is custom made to your layout
Patented coaxial design





FIGURE 1


Probe card with eleven RF Picoprobes and fifteen DC needles.

PICOPROBE® PROBE CARDS by GGB Industries, Inc., allows for more chip design flexibility because each probe card is custom configured to your circuit for testing wafers on either manual or automatic probe stations. Probe cards with complex layouts consisting of numerous DC contacts and multiple microwave probes with operating frequencies of 40, 50, 67, or 110 GHz can be custom fabricated quickly and inexpensively.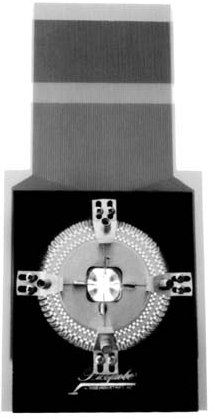 The probe points on a probe card can even be set to different depths so that multi-level modules can be successfully probed. Any pitch (tip spacing) from 50 to 1250 microns may be specified. Larger pitch probes are available by special order. The probes can be configured with Ground-Signal-Ground (G,S,G), Ground-Signal (G,S), or Signal-Ground (S,G) tip footprints.
Each probe card is carefully checked for planarity and with its individually spring loaded Beryllium-Copper tips, provides reliable contacts, even when probing non-planar structures. This reliable low resistance contact is one of the keys to providing highly repeatable measurements. Direct viewing of the probe tips ensures easy and accurate positioning.
Connection to the Model 40A is through a female K connector and is compatible with SMA and 3.5mm connectors. Connection to the Model 50A is through a female 2.4mm connector. Connection to the Model 67A is through a female V connector and is compatible with the 2.4mm connector. Connection to the Model 110H is through a female 1.0 mm connector.
Many different wiring configurations are available for the dc, power supply, or medium frequency needles. Ribbon cable, coaxial cable, and hook up wire are some of the types available. Our standard connectors include banana plugs, BNC connectors, SMA connectors, and (9, 15, 25, or 37) pin D-Subminiature connectors. Other connectors can be specified.
Probe card with four RF Picoprobes
and eighty-eight DC needles.

Bypass capacitors for the power supply pins are available in three different locations ("A", "B", and "D") using a process patented by GGB Industries, Inc.

*click on thumbnail to see a photo





| | | |
| --- | --- | --- |
| GGB INDUSTRIES, INC. | P.O. BOX 10958 | NAPLES, FL 34101 |
| Telephone (239) 643-4400 | Fax (239) 643-4403 | Email email@ggb.com |

Picoprobe® is a registered trademark of GGB Industries, Inc.