Model 12C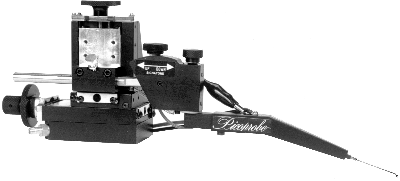 FIGURE 1
(Shapes available for use on any micropositioner)
The PICOPROBE® MODEL 12C is a high speed, high input impedance active probe for measuring the internal node voltage of integrated circuits. The input is 1 megohm shunted by 0.1 pf and the rise/fall times are 0.8 ns. This instrument has full dc capability and can be used with any oscilloscope. The Model 12C was specially designed so that when used in conjunction with a high input impedance oscilloscope, signal attenuation is 10:1 and with a 50 Ohm input, signal attenuation is 20:1.

Rugged, dependable and high speed the Model 12C presents a very modest load to the integrated circuit. It can be used to troubleshoot high speed bipolar, NMOS and CMOS circuits-even some short holding time dynamic nodes. Each amplifier is individually optimized for peak performance and reliability. The Model 12C will withstand large input over voltages. The only known failure mode is the accidental breaking or crushing of the probe tip which can be easily replaced. A large selection of replaceable probe tips are available to accommodate a variety of probing needs.

Specifications


| | |
| --- | --- |
| Input Capacitance | 0.1pf |
| Input Resistance | 1.0 megohm |
| Rise/Fall Time | 0.8ns |
| Bandwidth | dc to 500 MHz |
| Linearity | 0.5% |
| Voltage Range | -10 to +20V* |
| Gain Accuracy | ±3% |
| Signal Attenuation | (High Input impedance oscilloscope: 10 to1) (50 ohm input: 20 to 1) |

FIGURE 2
Picoprobe® Model 12C Replacement Tips

Part Number

Tungsten Wire
Shaft Diameter




Point Radius

12C-1-5

5 micron

<0.1 micron

12C-1-10

10 micron

<0.1 micron

12C-1-22

22 micron

<1.0 micron

12C-1-35

35 micron

<2.0 micron

12C-1-60

60 micron

<3.0 micron

12C-1-125

125 micron

<5.0 micron

12C-2-5

5 micron

<0.1 micron

12C-2-10

10 micron

<0.1 micron

12C-2-22

22 micron

<1.0 micron

12C-2-35

35 micron

<2.0 micron

12C-2-60

60 micron

<3.0 micron

12C-2-125

125 micron

<5.0 micron

12C-4-5

5 micron

<0.1 micron

12C-4-10

10 micron

<0.1 micron

12C-4-22

22 micron

<1.0 micron

12C-4-35

35 micron

<2.0 micron

12C-4-60

60 micron

<3.0 micron

12C-4-125

125 micron

<5.0 micron

The Model 12C replacement tip slides easily in and out of the Model 12C Picoprobe® body. The replacement tip consists of a housing, a precision resistor/capacitor combination, and a tungsten probing wire that is tapered to a fine point. The tungsten wire allows ample flexing so the probe point and the circuit remain in contact even in the presence of probe table vibrations. The flexible wire even reduces the potential for damage to the circuit and probe point. Replacement tips are available with 10, 22, 35, 60, and 125 micron diameter wires which are sharpened as indicated in the table above.


*Special order Model 12C PICOPROBES® are available for -15V.

Requires the use of a Picoprobe® Power Supply. Please specify 110V or 220V when ordering.
| | | |
| --- | --- | --- |
| GGB INDUSTRIES, INC. | P.O. BOX 10958 | NAPLES, FL 34101 |
| Telephone (239) 643-4400 | Fax (239) 643-4403 | Email email@ggb.com |
Picoprobe® is a registered trademark of GGB Industries, Inc.